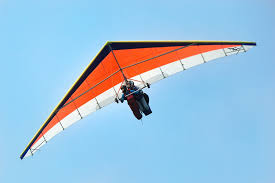 Have you ever wanted to go parachuting? Hang gliding? Or maybe ziplining? Over the past few months, there has been buzz about many new electives that will be available in the fall of 2019, such as the Community Engagement and Service Learning, or the Fundamentals of Chess elective. But another option, one that has had had little publicity, is the Aerial Sports elective. This full-year class will allow students to experience a plethora of activities that are not offered in the school's physical education curriculum. The elective's syllabus contains multiple exciting aerial activities like treetop obstacles courses, kite surfing, and beginning pilot's lessons. Students will have a chance to participate in all of the activities, as long as they listen to and follow the instructions. For students who enjoyed Project Adventure, this is definitely the elective for you.
While most students do not go rock climbing every day after school, the majority of them have tried something similar. Many have gone ziplining with friends or have gone hang gliding during a vacation. When asked about the treetop obstacle course, freshman Katie Kowalsky said "I think we as a whole, if it was just freshmen, we'd enjoy it."
In addition to being a new way to meet students who have similar hobbies, you can learn about famous pioneers in the world of aerial sports, such as Amelia Earhart. The class is a science elective, and is worth five credits. Of course, all students participating will be required to complete a course in aerial safety and must carry a walkie-talkie at all times. If students cannot follow the safety procedures, they will not be allowed to take part in the class. Safety gear will be worn throughout the entirety of the class to prevent any serious injuries.
Since the class is a science elective, students will not only receive grades for class participation, but also for projects and assessments relating to concepts covered in the class. Students will learn about different forces and how they affect the flight of planes, hang gliders, and other aircraft. For one project, students will be asked to design a miniature plane with only a few limited materials. These planes will then be tested in class for sturdiness, weight capacity, and flight time. There will be quizzes throughout the year to review key concepts such as aerial sport safety and terminology.
Students of all grades are permitted to participate in this class. This elective has a limited number of spots, so sign up soon! The deadline is April first. A permission slip will be given out to students who would like to sign up for the class, and another one will be distributed at the beginning of the course. Both will need to be taken home and signed so that the administration has record of a parent or guardian's consent. Failure to return either of these permission slips will lead to the student being placed in a different elective.