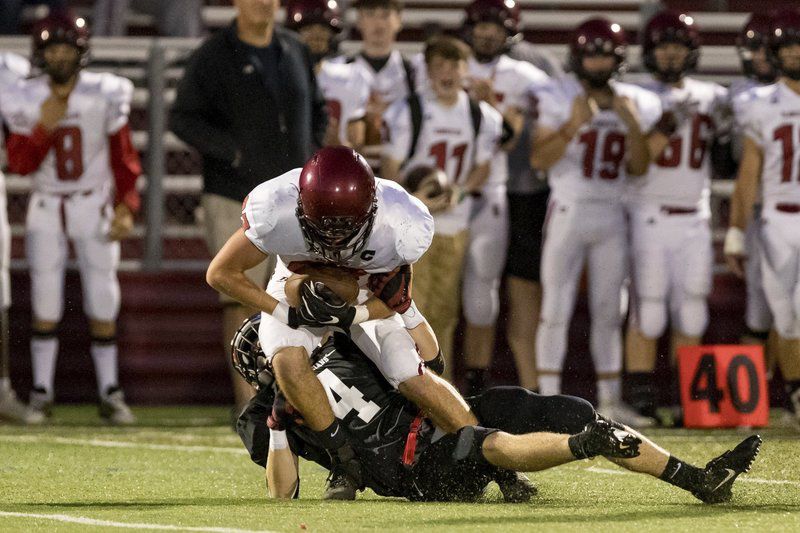 Last Friday, September 20, the Marblehead Magicians faced off in a hard-fought game against the Gloucester Fisherman. What felt like the whole town was in attendance, creating an incredible atmosphere that seemed to shake the entire stadium. I saw teachers, students and even many seniors at the game, which was indicative of how much high school football serves to unite Marblehead. Both teams played very well, with Marblehead coming out on top 49-0 taking them to an overall 3-0 standing, while Gloucester is now sitting at 0-2. This game was the ninth game in a row in which Marblehead beat Gloucester.
The Magicians were able to force three Fisherman fumbles which led to two touchdowns for Marblehead. The first touchdown of the night came after a fumble by Gloucester that led to Ryan Frieberger completing a 29-yard touchdown for Marblehead. This first score of the night was an amazing experience as all of the Marblehead fans rose to their feet to cheer on their town. Directly after this play, the Fishermen were able to bring the play all the way to the Marblehead 16 yard line. This ended up being their best chance of the game, although no points resulted. Marblehead was forced to deal with a tough 3rd and 31 situation on the Gloucester 35; however, Marblehead quarterback Josh Robertson was able to make the best of the circumstances and send A.J Russo for a 29 yard gain, and Tim Cronin was able to complete the touchdown from a 4th and 2 situation. Before halftime, Sean McCarthy was able to make a 16 yard run for the touchdown.
During halftime, the Marblehead marching band took the field led by band director Kevin Goddu and put on a great show. Marblehead came into the 3rd quarter strong, with Will Twadell receiving a pass and running for a 61 yard gain. On the next play, Tim Cronin was again able to break the Gloucester defense and make the score 28-0. There were a total of three more touchdowns scored for Marblehead by A.J Russo, Tim Cronin, and Will Twadell to bring the score to 49-0 to Marblehead. Josh Robinson completed 6 of his 7 passes for a total of 192 yards, along with two touchdowns. Tim Cronin also had an impressive performance on Friday, taking only 12 carries to complete three touchdowns. The Gloucester quarterback Sam Ciolino and his tight end Ben Renales were able to generate 64 yards throughout the game. Marblehead has had a great start to their season, and this game was no exception.