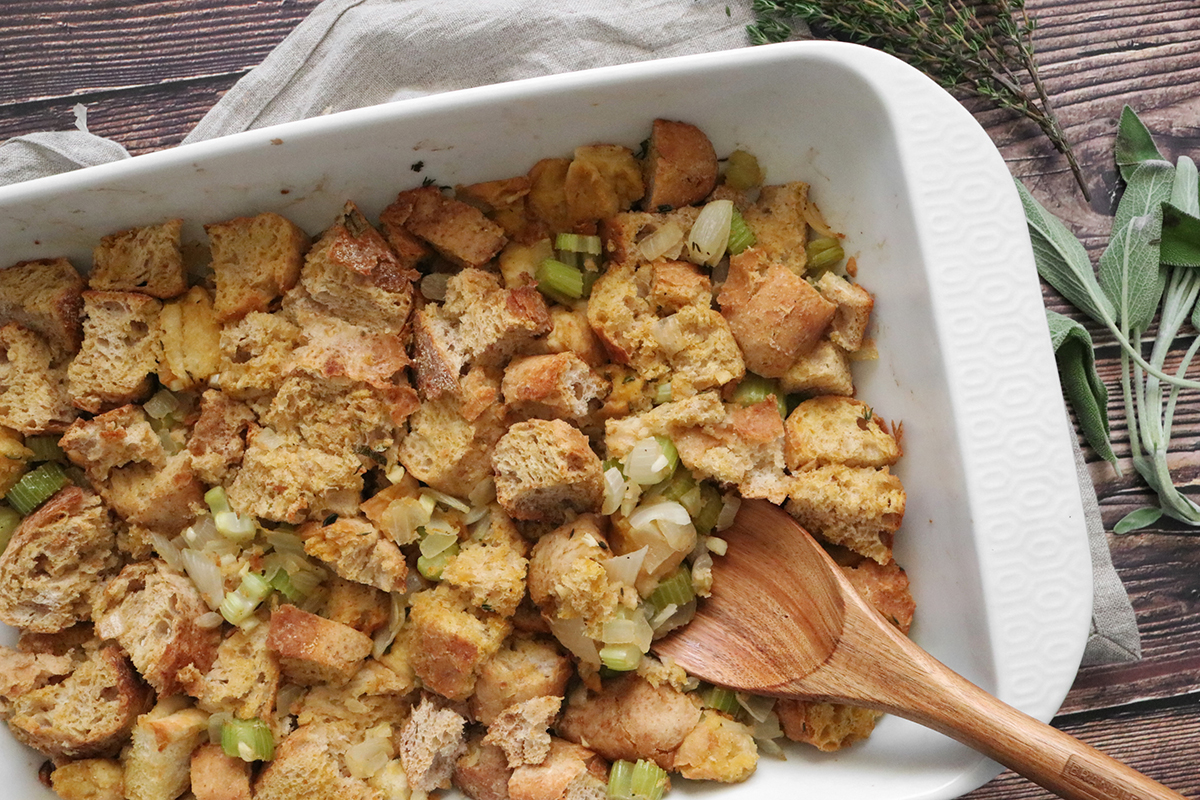 Thanksgiving is a major holiday in the United States. It is a holiday revolving around food and family, but it can be hard when you only eat certain foods. It's always hard to find things to eat when you're a vegetarian on Thanksgiving, as one of the main courses is based solely on meat. So here are some good vegetarian recipes you can try out on this upcoming Thanksgiving.
Vegan Stuffing: along with being vegetarian, this first recipe is also vegan. This recipe takes out out the butter and eggs in stuffing and replaces the chicken stock with vegetable stock, making a healthier and yummier stuffing.
Preheat the oven to 375 degrees Fahrenheit. Grease a 9-by-13-inch baking dish with oil.
Heat three tablespoons of oil in a large skillet over medium heat. Add onions and celery and cook, stirring frequently, until they are soft (about six minutes). Add mushrooms, sage, thyme, one and a half teaspoons of salt, and a few grinds of pepper. Cook, stirring, until the mushrooms are soft (about four minutes).
Put the bread in a large bowl and pour in the green tea vegetable mixture. Add parsley and toss until the bread is completely coated. Let rest for 10 minutes so the bread can soak up the liquid. Gently toss again and transfer to the prepared baking dish. Drizzle with the remaining one tablespoon of oil.
Cover with foil and bake for 30 minutes. Uncover and continue to bake until golden brown (about 15 minutes more).
Twice Baked Potatoes: these potatoes are an easy-to-make, yummy type of vegetarian food to have at Thanksgiving.
Preheat the oven to 400 degrees Fahrenheit.
Place the potatoes directly on the rack in the center of the oven and bake for 30 minutes.
Pierce each potato in a couple of spots with a fork and continue to bake until tender (about 30 minutes more). Remove potatoes from the oven and turn the heat down to 375 degrees Fahrenheit.
Hold each potato with an oven mitt or towel and trim off the top of the potato to make a canoe-like shape. Save the top. Carefully scoop out most of the potato into a bowl. Take care to leave enough potato in the skin so the shells stay together. Mash the potato lightly with a fork along with two to three tablespoons of the butter and sour cream. Stir in scallions and nutmeg, and season with salt and pepper to taste. Season the skins with salt and pepper. Refill the shells with the potato mixture. Sprinkle the cheese on top of the potato filling. Brush the saved top with the remaining butter and season with salt and pepper.
Set the potatoes and lids on a baking sheet and bake until heated through (about 20 minutes).
Vegan Gravy: for all the gravy lovers out there who don't want to miss out on a key part of Thanksgiving, you don't have to anymore. With this recipe, you can now still pour gravy over all your meals on Thanksgiving or at any other time.
Position an oven rack in the highest position and preheat the oven to 450 degrees Fahrenheit. Toss the onions, celery, carrots, and garlic with one teaspoon of oil and one teaspoon of salt on a rimmed baking sheet. Roast until the vegetables are charred in some places (about 25 to 30 minutes).
Bring the roasted vegetables, one cup of water, mushrooms, thyme, sun-dried tomatoes, soy sauce, bay leaf, and one teaspoon of salt to a simmer in a medium saucepan over medium-high heat. Cook, stirring occasionally, until most of the liquid is gone (eight to 10 minutes). Add six cups of water and one-half teaspoon of salt, and bring back to a simmer. Reduce the heat to medium-low, and gently simmer until the contents are reduced by about one third (about 45 minutes). Strain the stock through a strainer into a large liquid measuring cup; use the back of a ladle to squeeze all the liquid out of the solids (there should be about four cups of stock). If you are making the gravy to store for later use, let the stock cool to room temperature, then refrigerate for up to three days.
Chop up the fried sage, stir it into the gravy along with the parsley, and season to taste with pepper.
So I hope everyone has a great Thanksgiving wherever you spend it and whoever you spend it with.