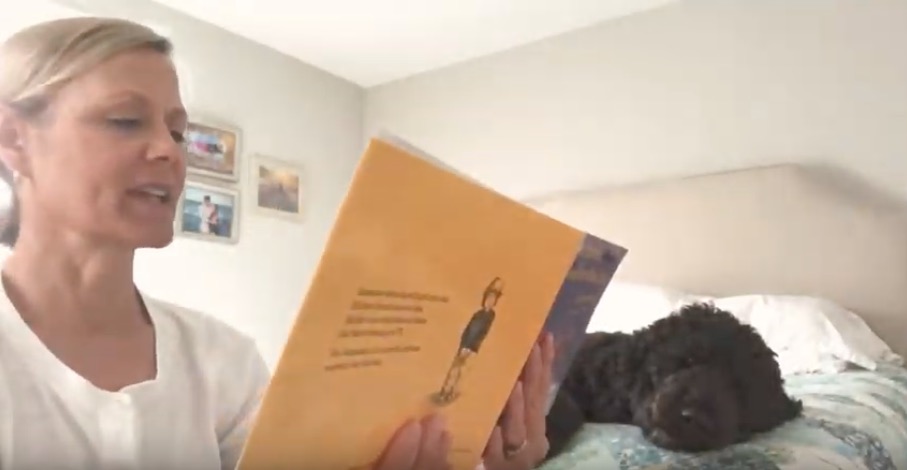 Nowadays, everyone stays at home all the time, stuck inside with our families, the mountains of work that we must do online, and this collective feeling of restlessness for real life. Now imagine that you are a six year old in quarantine, a six year old with limitless energy for the monkey bars at recess, giggles with friends, and the occasional epic meltdown. Imagine that you are that six year old's parent.
For many families in Marblehead, this situation is not hypothetical; it is real, and it is running around the kitchen right now asking for a snack and the chance to pick the next movie to watch on Disney+. Marblehead is full of developing kids who need an outlet for their energy, as well as parents who must entertain their children while also fulfilling regular obligations from home. Jennifer Billings, a long-standing English teacher at MHS, is self-isolating alongside her sons at home, and although these boys are all grown up, Mrs. Billings can imagine what the quarantine might be like if her kids were young enough to attend elementary school. Three of Mrs. Billings's fellow English teachers are mothers to young children, and as the colleagues have corresponded during this difficult time, Mrs. Billings can see the challenges of quarantine for families with little kids. Teacher of Marblehead High School's first ever service-learning class alongside social studies teacher Lindsay Bachman, Mrs. Billings was inspired to engage the MHS community in an opportunity to help young Marblehead students from home. After spending her quarantine brainstorming and then communicating with students via Google Classroom, Mrs. Billings's coronavirus partnership with Diane Gora's first grade class at Glover School has officially begun, and it is already connecting bored Marblehead little kids with bored Marblehead big kids ready to have some fun.
The partnership between Mrs. Billings's and Ms. Gora's classes consists of multiple layers, the first being a pen pal program that is still in the works. Both teachers agreed that snail mail would be the best way to encourage safe social interaction, and Ms. Gora is excited to teach her students how to properly mail a letter. With 50 MHS students already signed up to write back, these high-schoolers who grew up learning how to text and type and tap may also have a lot to learn when it comes to old-fashioned letter-writing. Additionally, Mrs. Billings has asked her students to record videos of themselves reading children's books so that their pen pals do not miss out on regular storytime. Mrs. Billings was inspired to create this virtual storytime when she was in Maine to check in on her mother-in-law (from six feet apart). If only she had brought a copy of One Morning in Maine, Mrs. Billings would have loved to record herself reading the story on the beach, but instead the teacher ultimately recorded Alexander and the Terrible, Horrible, No Good, Very Bad Day as she read to her dog, Bella, back in Marblehead. Since then, 13 stories and counting have become available to watch on Mrs. Billings's Youtube page, ranging from chapter books to picture books read by students and friends of Mrs. Billings alike.
Just having recorded my own reading of Jeff Brumbeau's The Quiltmaker's Gift this past week, I certainly hope that the first-graders will enjoy the story, but I also appreciated having the chance to slow down and return to one of my old favorites. As Mrs. Billings says, "[during] this time when we're all inside… a book is an escape." Freshman Zoe Gast, who read the first chapter of Harry Potter and the Sorcerer's Stone, agrees, saying that, "like a lot of people, I fell out of my reading phase around seventh grade." Gast has been picking up her own books for pleasure lately, including the history classic Guns, Germs, and Steel, but said, "I chose [The Sorcerer's Stone] because I love Harry Potter… it was just like my favorite thing when I was little."
For the little ones now listening to these stories online, the joy of discovering a new book is only part of what Mrs. Billings hopes they'll love about the partnership. "There's nothing quite like a young kid knowing a big kid," Mrs. Billings insists. "It's like knowing a superhero." And for us participating high-schoolers, this sense of admiration and validation is a relief. Many of Mrs. Billings's students are juniors, and as we navigate a halted semester that was once supposed to prepare us for the college application season next fall, now would be the perfect time to revert to the childlike belief that life will always end happily ever after. With Mrs. Billings's and Ms. Gora's program to encourage friendship through reading and writing, we rewrite our own expectations for this spring, weaving together our plotlines with those of our young peers. Of course, the pen pal/storytime program is an important community service opportunity, but it is also a reminder to slow down, to recognize what someone else's quarantine experiences may be like, and to put our feet in our new friends' (much smaller) shoes. As Mrs. Billings says, "We're all in this together." Let's take care to remember that.

Check out the virtual storytime videos at: https://www.youtube.com/playlist?list=PLT-z77KkgHI3Y0N9X2pBWROrLFCQDwxEq
Happy reading!