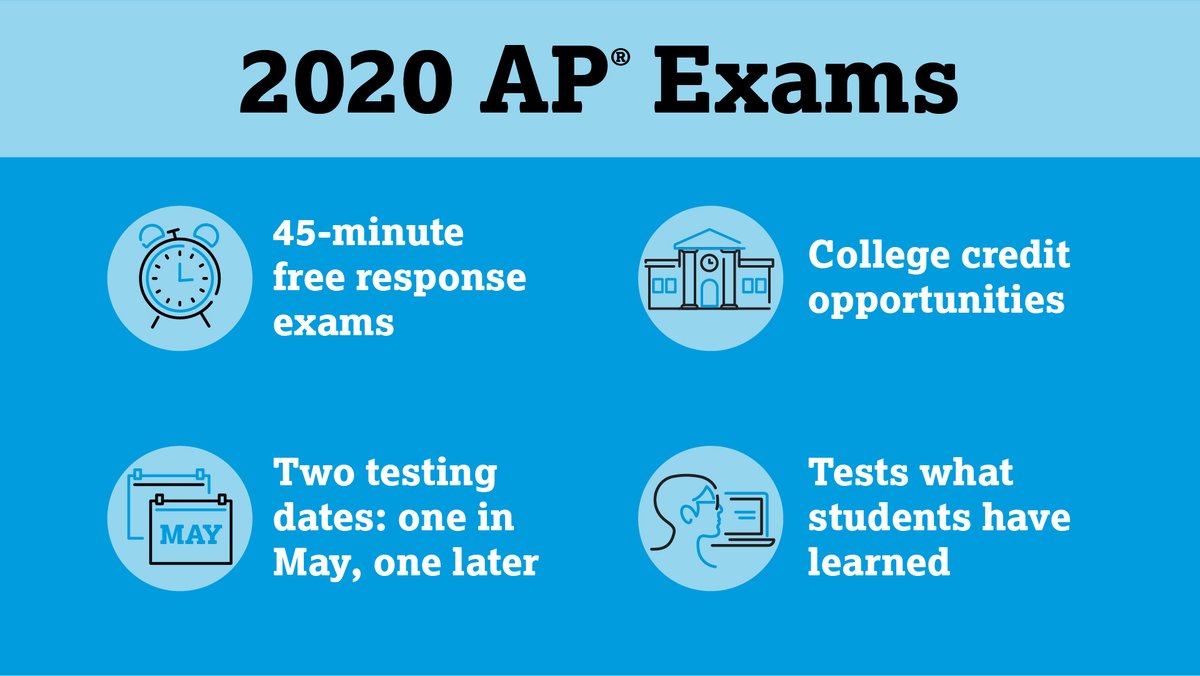 Amidst the coronavirus pandemic, students and teachers alike worried whether classes would be able to continue outside of a classroom setting. Amongst those speculators were students enrolled in Advanced Placement classes, who feared that the hard work they'd poured into their studies this year would not culminate in an end-of-the-year exam for college credit. Students in AP classes, many of them academically driven, typically spend their ten months in school preparing for an exam administered by the College Board that, if the students perform well, will translate into credits that can be used to skip introductory-level courses in college. This approach is favored by many, as it allows students to save money on expensive lecture courses and participate instead in smaller, more advanced courses to further their college experience.
This year, however, the coronavirus pandemic has placed a damper on many students' plans, as a multiple-hour-long exam administered in an overcrowded room violates CDC guidelines and may put test-takers at risk. As the College Board changed the deadline for class payment to the fall for this year's exams, the organization had to come up with a plan to allow students to take the exams they had already paid for. So the College Board came up with an idea: instead of the usual three-to-four-hour exams containing sections of multiple choice, short answer, and free response questions covering all topics taught in class, the exams would be taken at home in forty-five minutes and would contain one or two free response questions covering only specific topics.
Students were shocked by the College Board's plans. At first, many saw it as a change that would benefit them immensely. An at-home AP exam? What could prevent students from using their notes, or calculators, or online resources during the exam? Surely everyone would excel on this year's tests! But doubts began to roll in as students reexamined their situation. All year, teenagers have been preparing for traditional AP exams. Their teachers have drilled them with AP-style multiple choice questions, in-depth reviews of numerous topics, and countless styles of free response questions. Instead of being tested on a variety of topics, students' scores will now be determined by one unit of the class. Many see this as a major hindrance on their chances to score favorably. What if you maintained an A-average throughout the entire course, a grade that typically would yield at least a passing grade on the exam, but then the only question on the test was from a unit that you hadn't understood? Surely that wouldn't be representative of your knowledge. Also, as students learned of the plan to take exams at home, many began making jokes on social media platforms about how easy it would be to cheat on the exams. But what students failed to realize is that AP exams are graded on a scale, so if the majority of students cheat on the exam, it will become increasingly difficult to achieve a top-score on the exam, thus punishing those students who maintain their integrity and complete the exam without outside help.
Of course, the College Board faced an unprecedented challenge this year in designing AP exams, and the format they landed on was likely the only viable option. I am not thrilled with the change in plans regarding my AP classes, but I understand the severity of our current situation and am glad to have the chance to complete my exams in the middle of a pandemic. Hopefully, the new format will function as the old one did: by rewarding students who study hard with college credit.