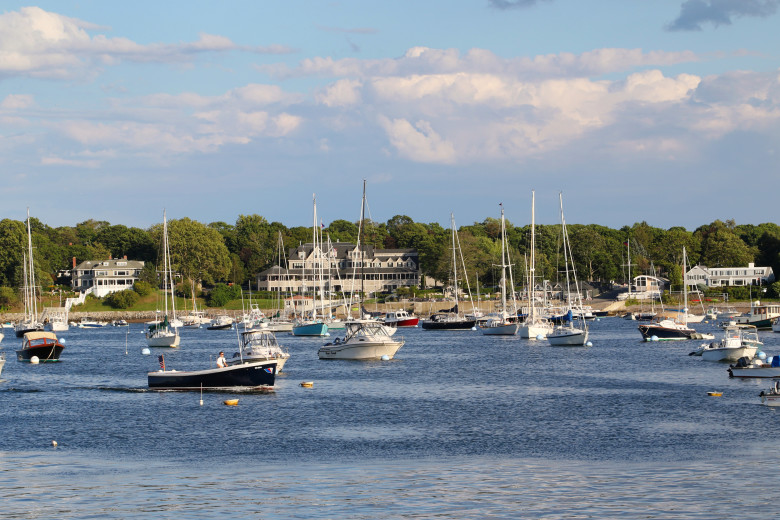 "The boats are in."
My dad makes this declaration every year at some point towards the end of April, and every year hearing it makes my heart flutter with excitement. Like many Marbleheaders, I tough it out through our gruesome, gray winters, impatient for that first day back out on the water. And when that first day arrives, I am basically reborn. This past Saturday, my dad made the long awaited declaration, and in an instant I was at our mooring, starting up our Grady-White for a traditional boat trip to Manchester-by-the-Sea. During my boating season – typically late April to late October – I visit Manchester by boat at least once per week. The following are my top four favorite activities in the Manchester-by-the-Sea harbor area. The boat ride is about forty minutes across, so if you're looking for easy boating excursion ideas this summer, add these to your list!
For a morning journey: Head out at dawn on a calm morning, and watch the sunrise* as you make the trip to Manchester Harbor. Early in the morning, there is always lots of space at the public dock. Tie up and walk across the street, behind the train station, where you will find a small cafe named "Essen" (German for "eat"), and opens at 6am. Pick up a pastry or breakfast sandwich (highly recommended) and coffee. Essen's cozy interior and delicious food is sure to satisfy. But, it will taste even better if you head back to the docks to eat while watching the sunrise. There's no better way to start the day!
*Make sure to check the weather the night before to ensure a clear morning sky for optimum sunrise viewing.
 For an evening ride: Wondering where to go for dinner? Leave Marblehead harbor at 6 o'clock for a 7 o'clock dinner. From the public dock, walk less than five minutes, into town to Cala's restaurant. This casual dine offers a variety of great eats, from burgers to grain salads, and the atmosphere is perfectly family friendly. Take an after-dinner walk around the park by the docks before heading back to Marblehead as the sun goes down. The ride back is typically a bit chilly, so bring a few blankets and layers for the journey home. Also, if you want to stay out a bit later, make sure you're boat hull lights work!

  For a day in the sun: Pack a bathing suit, towels, and sunscreen, and head over to Sand Dollar Cove. Located just outside the entrance to Manchester Harbor, this protected cove is the perfect place to anchor for the day. If you go at low tide, bring goggles so you can jump in the water and search for sand dollars, which cover the ground (hence the cove's name). After sun tanning on the boat deck for a few hours, my friends and I like to drive into the harbor, dock, and walk over to Captain Dusty's Ice Cream Shop for a cool treat!

 For an earthy exploration: About three-fourths of the way to Manchester Harbor, so about a thirty minute ride from Marblehead, is Misery Island. There's a small inlet on the side of the island that faces Manchester. Drop an anchor in this inlet, and swim into the shore. Follow the walking trails, and explore the island as you walk directly across to the opposite shore, where you'll find another little beach. It's perfect for a quick swim before heading back to your boat!
The boats are in, let the adventures begin!