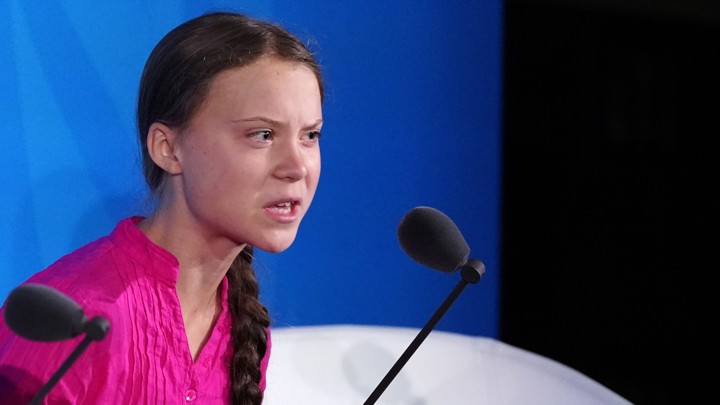 In August of 2018, Greta Thunberg protested outside of the Swedish Parliament holding a sign saying: "School strike for climate." In May 2019, she was on the cover of TIME, and she was nominated for the Nobel Peace Prize. Thunberg drew further attention to herself and her cause in September of this year when she attended the United Nations Climate Action Summit. She gave a speech there urging the UN to take better and more urgent strides to combat climate change.
Thunberg's speech consisted of her accusing the UN of not doing enough to stop climate change, and of her broken dreams because of the process. She opens her speech saying: "I shouldn't be up here, I should be back at school." I couldn't agree more. Although the sentence is an ironic one, since her slogan was "School strike for climate," I assume that there are important things that Greta's classmates are learning in their Swedish classroom. Thunberg then asks the UN how they dare to look to the younger generation for hope. She then states that all the UN talks about is money and business.
My take on Greta Thunberg's address to the United Nations is this: she failed in uniting people for a common cause. During her entire speech, she accused the UN of not working hard enough to stop carbon emissions and other things causing rising temperatures. And that was it. All she did was point fingers at the older generations, angry at them for wanting the younger generation's help. I understand how some people can see the future as uncertain and bleak, but I have never heard of a successful political campaign, or movement, with a negative slogan. Martin Luther King's speech is known as "I have a dream," and in it, he shared his positive view of a better future with racial equality. Malala Yousafzai, in her "One child, one teacher, one book, one pen " speech states: "We realize the importance of light when we see darkness." The key difference between the three speeches is that in two of them, a more optimistic view of the world is shared, and a more inspirational message is given. In Thunberg's, her pessimistic view was very apparent, but she also provided no solution to the problem she was complaining about. She didn't reference alternative energy, planting trees, or stopping industrial farming. Maybe she didn't mention these solutions because she feels that they are not doing enough. If that is the case, Thunberg should have rallied the younger generations to collaborate with the UN. She should have expressed the need for more scientists in the field of environmental science who will one day go on to solve the problem of how to stop climate change. Maybe she could have announced that she will be creating a scholarship fund for teenagers who want to go to college and study science but can't afford tuition. She should have inspired our generation to come up with the solutions, not yelled at the UN for not finding any.
I myself am a 16-year-old-girl. I haven't spoken to the UN, nor done anything exceptional or important that would cause my life to be seen as "inspirational." But I do believe this: if you want to change something you see as unjust in this world, you must prove its inhumanity and have a unified group of people supporting your cause. You must use inspiration and hope for a better tomorrow to have people support your argument and to motivate change. You must also propose a solution to the problem at hand and show people what they can do to take strides towards it. And so, my fellow students, ask not what the world can do for you, ask what you can do for the world.