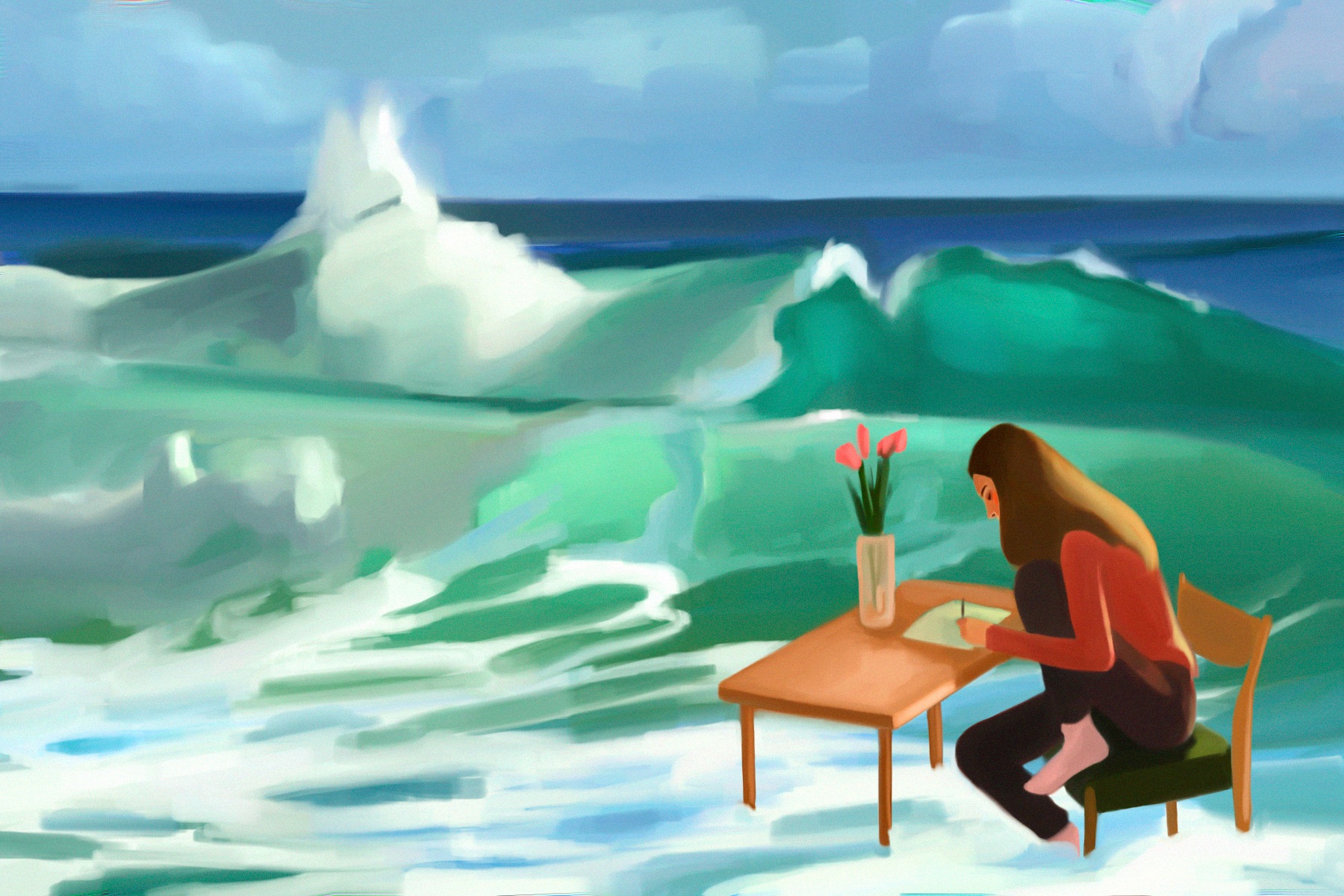 When I was in elementary school, I remember scribbling stories in my blue composition notebook, labelling pages with carefully printed chapter titles and doodles along the margins. Like every kid, I was creative; I lived inside of my imagination. When I couldn't sleep, I architected dreams that I would turn into stories the following day on the following page. I loved to write, and it was as simple as that.
As I've risen through grade levels and learned how to hone my story-telling skills, this pure love has also matured. Between red letter grades that scream at the top of essays and the knowledge that my work may now reach the eyes of someone like you, who only knows me by these words, writing has become a performance stage. This performance is instructional, teaching me through the infamous eighth grade research paper assignment that I must separate myself from the subjects I cover, showing me over countless peer review worksheets how to perfect someone else's monologue. I love incorporating my developing abilities to self-edit, conduct interviews, and analyze literature into my growing writing arsenal. And yet, when I was eight years old and pressed my pencil too hard onto each page, was my writing worse than it is today? Sure, I have practiced advanced techniques and shared complex ideas, but has this pursuit only complicated my once simple understanding of what it means to write?
Today, when I want to write an article, I spend weeks contemplating my ideas, questioning if I deserve to raise my voice on this topic; there are countless themes I have crumpled and tossed into my mental waste bin because I considered them overdone or bland or bizarre. Once I finally select the idea I would like to express, my cursor blinks at the top of a barren document and retraces its steps every time I attempt to start a sentence. 
Writing in that blue composition notebook was nothing like this—I could not stop writing if I tried. Eventually, I would go back to reread my scribbled stories and become indulgent with asterisks, adding quirks and sparkle to my descriptions, never knowing when to put the pen down. Writing was my compulsion, and although I had not perfected this craft, I constantly and unconsciously practiced, writing not to make a certain grade nor meet another deadline, but to let my pencil chase the way I saw the world, to color a piece of paper with only graphite dreams.
Although these untamed diary entries no longer live inside that old, blue book, I have spent the past two weeks returning to home base, writing in my journal every night. On February 18, I wrote that "less and less do I come here knowing what to say." I return to these pages only because I know I want to say something, and by the end of my lines, I figure out which feeling sat on the tip of my tongue. 
Writing without a plan feels challenging and uncomfortable, but racing to solve this internal mystery was how I first learned to write. It's how we learn to think and feel, tracing fragmented emotions to a resolution at the bottom of the paper. It's how we realize we've grown, reflecting on an old journal as we start a new one, remembering how we felt before we decided to write something today. 
Whether you can recite countless vocabulary words or question where to place commas, you are just as much of a writer as I am. You craft emails for work, send texts to friends, analyze advertisements as you browse online. You know that writing is our most essential tool to communicate ideas, and there are ideas waiting inside of everything and everyone that beg to be expressed. We all relate in some way to the elementary school kid who just wants to write. We may not know why, but we have ideas that take up space inside our minds and an innate desire to set them free. Whether it is painting or photography, bass guitar or ballet, every art form originates from a simple need to funnel thoughts into something else. 
So today, take a moment to write without knowing what you want to say. You may just be surprised with what you find at the bottom of the page and inside yourself.